Our Packs To Help Get You Started
CONTENT CREATION PACK
We help you build content that drives awareness and conversion. Our conent pack includes one hour kick off session, three long form posts per week, organic posting, SEO Keyword Research, Monitoring and Ranking Reports.
PAID MARKETING PACK
Are you looking to run paid campaigns across Search, Social, and Display? We can help. Our paid marketing pack includes research, build, design, development, reporting and optimisation across a variety of platforms. 
Here's How We Can Help You
Website Design and Build
SMS/Voicemail Marketing
Social and Community Management
Campaign Management and Reporting
Content Strategy and Development
Marketing Automation
Workshop Facilitation
Lead Nurture
Our Proven Digital Marketing Process
The goal of Resoant digital solutions is to ensure our clients leverage their investment in the Salesforce suite of products to intelligently increase their marketing effectiveness and profitability.
We address all areas of the digital marketing process that can be summarized into 4 stages – Strategy, Creativity, Implementation & Review.
Note that we can start working with clients at any of these stages to improve their digital marketing.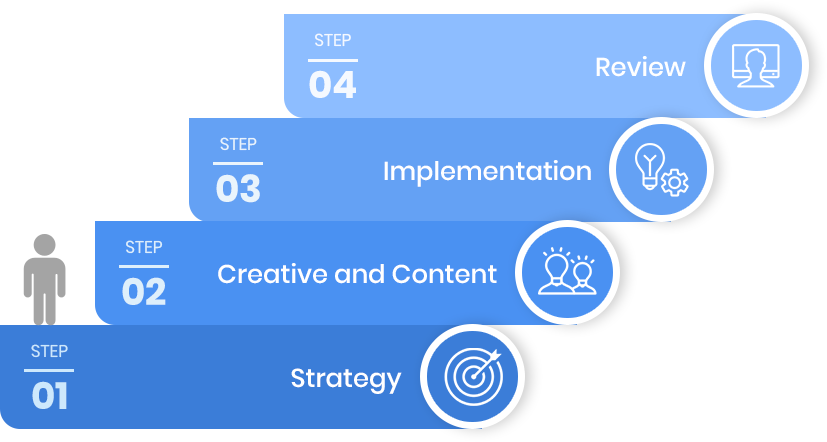 Get started on your journey
We'd love to hear from you, whether it's about discussing your content strategy, your goals for 2020 or you want to learn more about Resonant Digital Solutions.
We engaged with Resonant to help us streamline our business processes and reduce the time spent copying data between multiple systems. Resonant developed a custom pricing calculator, renewal tracker and integrated Salesforce with Xero all of which has greatly increased our business efficiencies. We had a great experience and found Resonant Cloud very easy to work with.
Jonathan Barouch
Local Measure
CEO & Founder
Resonant Cloud have helped our business get the most from our Salesforce Platform with their expertise and innovative solutions. Using Resonant Cloud's consulting we have been able to integrate technology and streamline our daily processes, allowing our business to cut down the time spent on data entry so the sales reps can use that time to sell
Philip Van der Woerd
CommandeX Pty Ltd
Managing Director
We made the right choice when we engaged Resonant Cloud Solutions to implement Salesforce for our national marketing and events company. Their thoughtful approach into our business needs has been instrumental in building a platform that works seamlessly, helping us to manage in a way that meets business needs today, with more real time visibility across all of our services. Resonant Cloud Solutions have created sophisticated and cost effective solutions to complex issues we were facing and we continue to work with them as our business continues to grows and our needs evolve.
Nancy Attoh
The Arc Agency
General Manager