You may or may not have guessed it, but Pardot has been rebranded to Marketing Cloud Account Engagement. It does not roll off the tongue like Pardot, but it does align with Salesforce's plethora of marketing tools – all falling under the same Marketing Cloud umbrella. And from this point forward, we will refer to it as Account Engagement (or MCAE).
Summer '22 release is hot to trot. In fact, by the time you read this, the release has more than likely been done. System upgrades are often unwelcome – think of Facebook changing the shortcuts or adding new features (awful!). But Account Engagement updates are usually well received and that is partly because many of these ideas are generated by the community – us super users. So the updates are, effectively, awesome ideas by our peers that are upvoted and pushed to production. So what is in store for the Summer '22 release exactly? Keep reading.
All Editions
Conditional Completion Actions
We have been talking this one up for a while. We thought it would be here by the end of the year, but it has arrived even sooner than expected. 
Conditional completion actions based on complex logic mean less requirement for automation rules, and since automation rules are finite, this is a great outcome. Often an automation rule may be used for complex completion actions, that are based on criteria.
Conditional completion actions will be available on Lightning list emails, forms, form handlers, files, custom redirects, and page actions. Conditional completion actions are not available for Classic emails, but a workaround would be using custom redirects, created in Account Engagement with conditional completion actions, for this purpose.

Bounced Email Data in a single Report
The new bounce email report helps you review all the bounced email addresses across all your email sends for the past 12 months. It's a quick snapshot of all the bounced addresses in one place. 
To view your bounced emails, go to 
Pardot Reports > 

Marketing Assets > 

Emails > 

Email Bounces.
You can see the date range, review high-level graphs, bounce types, and all the prospects listed. You can also export a CSV file.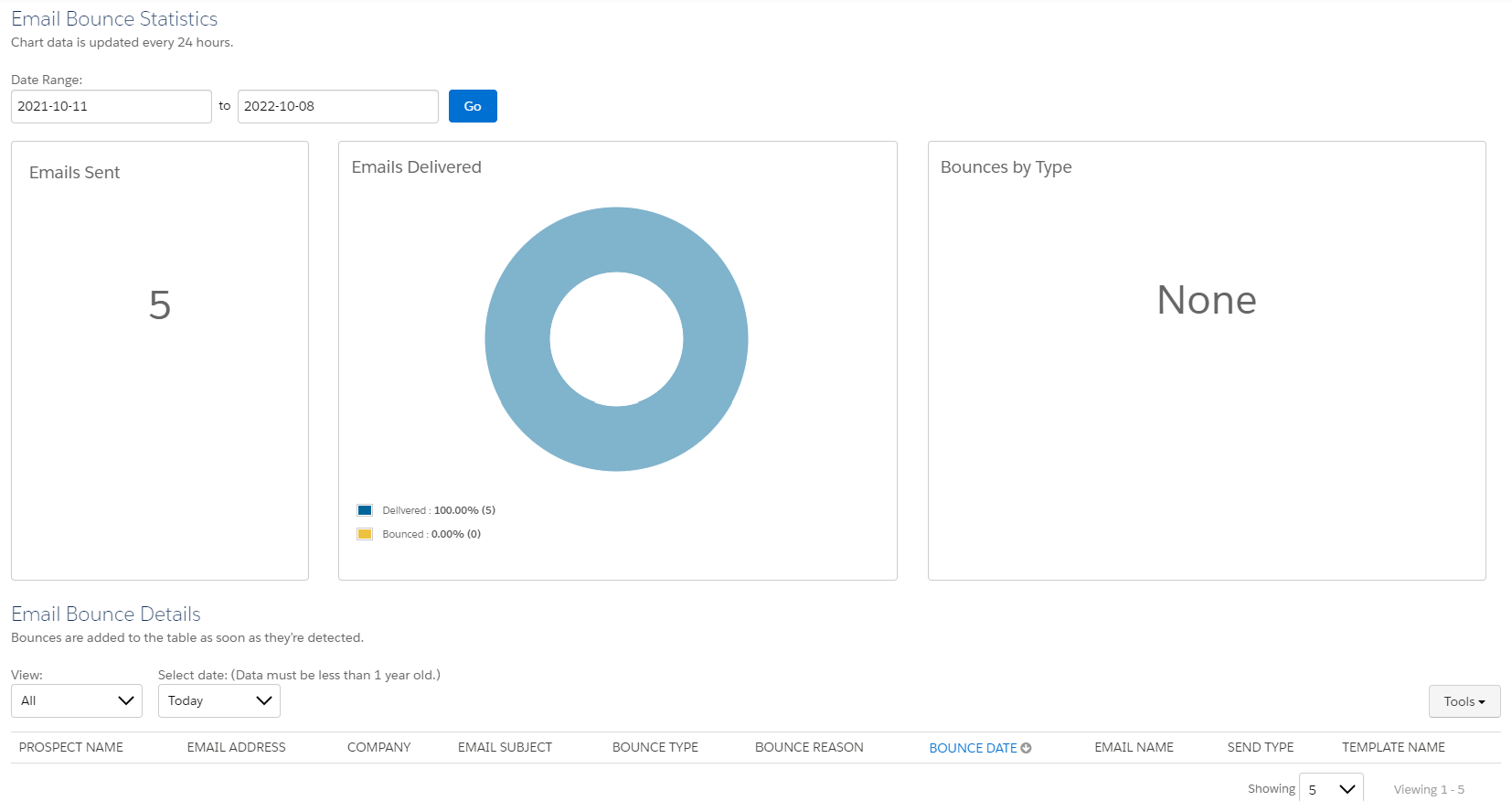 Improved insights on List Email Reports

Four new fields will be added to your reports – the total number of prospects, suppressed prospects, un-mailable prospects, and the total number of duplicate prospects. This will give you a more accurate view of who receives your emails.