Let's suppose you've decided to become a freelancer and turn a beach in the Canary Islands into your personal office. Maybe you have a toddler, and remote work is the only possible option for you to participate in your team's endeavours. Or you've gone on a business trip and want to communicate easily with your colleagues. Sometimes, it can be rather challenging to stay in touch all the time. Which software applications or platforms will help you stay on top of things, and not miss any critical updates from your company? We have put together five of the leading meeting and conference call platforms across various industries for you to choose one that best suits your needs.
Zoom
Zoom is a very convenient web conferencing platform which has many useful features. You may use it when you have to organise a video conference call with a team comprised of remote professionals or if you plan to host a webinar for an international audience online. In both cases, this platform will meet your expectations and facilitate a seamlessly collaborative experience.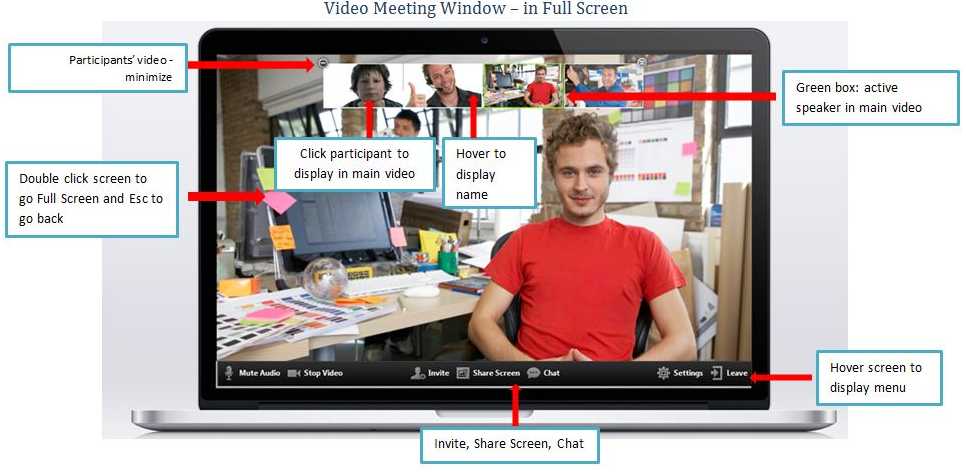 Zoom supports a number of devices and operating systems, from Windows7+ to MacOS 10.9+. For those on the go, it also runs smoothly on mobile devices. Through this platform, you can record videos up to 40 minutes in duration and broadcast them on social media platforms, such as Facebook and YouTube.
When you use this tool for a video conference, up to 50 members can participate in it. To take part in a web meeting, participants don't need to have an account. All you have to do to invite a person is to generate a personal link and to send it via email. However, if you want to create a link, you will have to sign in. When a conference call starts, you'll see all the participants' webcam videos on your screen, and you can also enlarge any participant's screen image if you wish.
If you create a webinar, 100 to 10,000 with the right to view and up to 100 interactive users can participate in it (the exact number depends on the configuration you choose). With Zoom, you can use two monitors at once – one to see participants with and another to show them a presentation. Also, one of Zoom's features is PayPal integration, which will make your webinars' monetisation much more convenient.
Hangouts Meet
Previously, Google Hangouts was split up into Google Chat and Google Meet. Hangouts Chat is a simple messenger by Google, while Google Meet is more of a web conferencing platform. It is compatible with a wide variety of devices ranging from PC's with Windows XP and higher to the iPad mini (4th generation).
Hangouts Meet, just like Zoom, provides the opportunity for 50 people to take part in a video conference call. There is also an option for video and audio recording. However, Hangouts Meet has some additional features that aren't available in the previously mentioned platform. First of all, it integrates with Calendar, a team planner with general access. This will help ensure that you don't forget about your meetings on the platform and on other applications.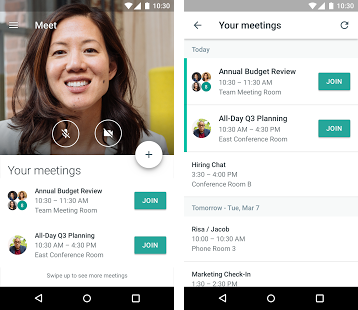 The most significant advantage of Hangouts Meet is the ability to access the web conference call even without an Internet connection. You simply create a unique number in advance, and when you call it, you will gain instant access. However, this extraordinary feature is available only in the most expensive tier – G Suite Enterprise.
TeamViewer
Team Viewer is not only a web conferencing platform, but a service that allows remote administration – a feature that is used by more than 100 million people. What makes Team Viewer stand out from the competition is that it is free for non-profit use. Another advantage of Team Viewer is that you can use it on any platform: Windows, Mac OS X, Linux, and even on the iPhone and iPad. To use this app, you don't need to install it on the computer you'll be carrying out administration tasks from or creating a web conference call. You can do all that through a browser or a flash drive.
An important point which should be noted when choosing a program for remote access and data exchange is the security of the transmitted traffic. To ensure that the information you send does not fall into the wrong hands, Team Viewer encrypts all data. The app uses the RSA private / public key exchange scheme. Also, the encryption method uses a robust AES algorithm with a key length of 256 bits. Currently, it is the most effective method of protection.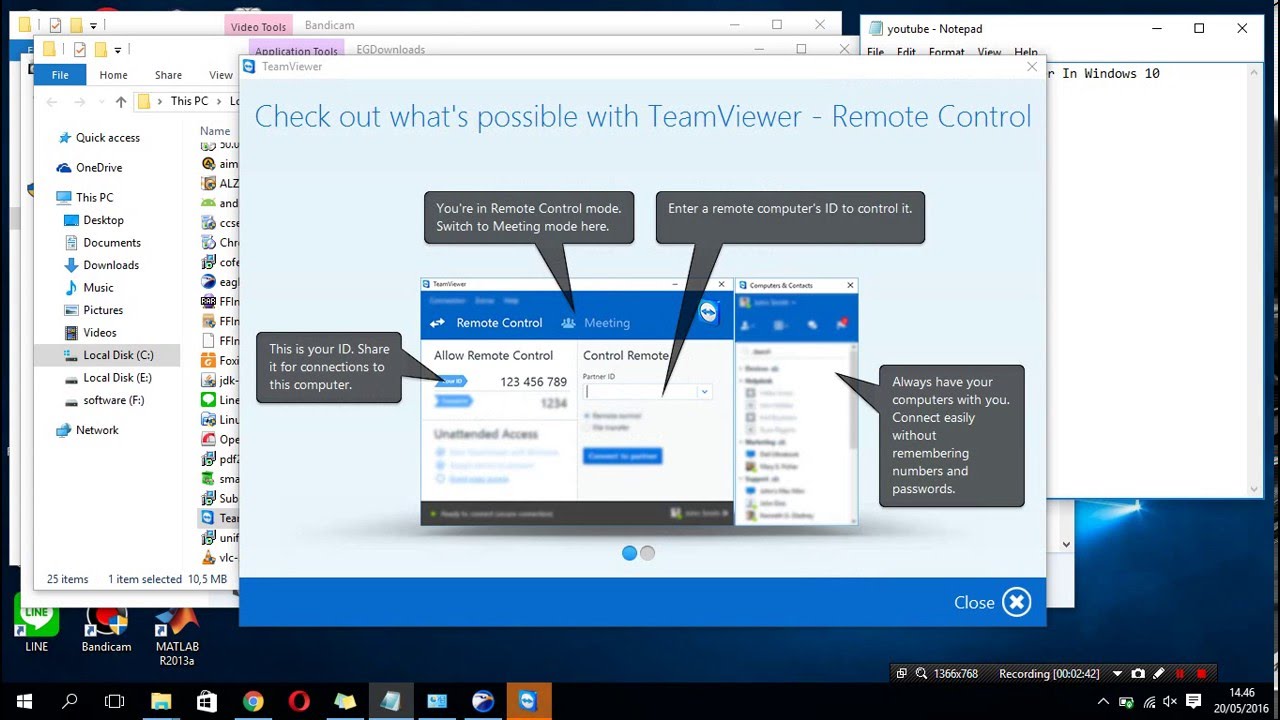 Another precautionary measure implemented in Team Viewer is notifying the managed computer user about the installed connections on their computer. No remote administration session will go unnoticed. When connected to a local computer, a list of installed sessions appears on the screen for proper monitoring.
When you hold a conference call through Team Viewer, you can manage the rights of members, organisers or MC. As video conferencing isn't the primary focus of Team Viewer, you can only host video calls with a few people. However, you can also give them access to your desktop screen, if necessary. Team Viewer is particularly helpful in facilitating customer support services, as it provides the means to gain access to customers' screens and solve their problems remotely, instead of having to walk them through what needs to be done step-by-step.
GoToMeeting
Though GoToMeeting is a tad lacking when it comes to the number of users (conference calls can include only 15 people, and GoToWebinar – up to 1,000 users), it still has some advantages over similar platforms. First of all, there is a free 14-day trial period. When it's over, you can use the GoToMeeting free version. On Google Chrome or Mozilla Firefox, you can use it to create a web conference call in 25 languages with 3 users. You can even do it from an Android device, as GoToMeeting supports most iterations of Android. To start using GoToMeeting Free in Chrome or Firefox, go to free.gotomeeting.com, click 'Start the Meeting' to generate a personal link, and then invite other users to join your video call.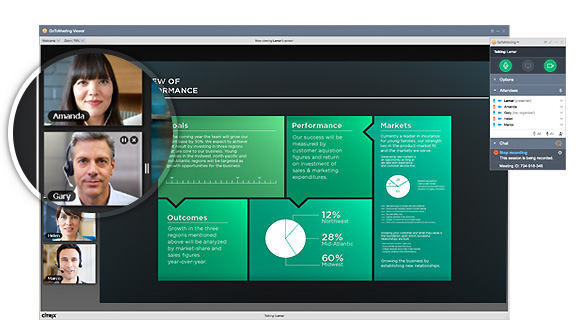 Of course, if you have a big team, GoToMeeting probably isn't the best option for you. However, it can be the perfect platform for communicating with business partners, as its interface is highly intuitive and effortless to use. You don't need to install the app like Hangouts Meet or Skype. Also, there is a feature that allows remote desktop demonstrations, which give you and your partners another method through which you can work on projects together.
Appear.in
Appear.in is probably the most stylish utility for video conferencing. In the PRO version, you can add a maximum of 12 members. The process of meeting room creation is straightforward. You create a link to a meeting room using any link name you want, for instance, appear.in/tony-stark-is-the-best. Then, you share the link with future video conference participants however you want via email or Slack. As in the previous platforms discussed, users don't have to register or install Appear.in to participate in the conference call. All they need to join your meeting room is a browser.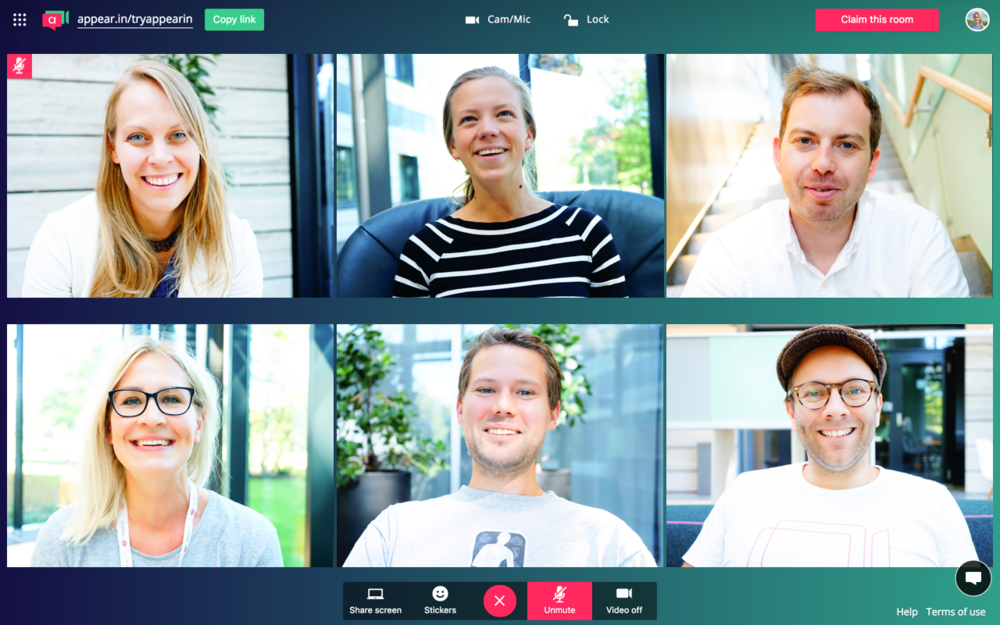 In Appear.in, you can also demo your screen to conference room participants. Appear.in integrates with the best remote teamwork tools such as Slack, Trello, and even Youtube. This makes the platform a solid option for any remote working freelancer.
When it comes to deciding on which video conferencing platform will work best for your company, you'll need to consider a lot of factors and choose one that ticks all the boxes for your organisation. Hopefully, you found this information useful and are ready to start choosing the right web conferencing app for your needs.
Further Reading