When conducting email marketing there are a few rules – best practices and law, that you have to abide by. One of the rules in Australia, as dictated by the SPAM Act, is that you must make it easy for people to unsubscribe from your emails (read more about your obligations in Australia here).
This is not only necessary to avoid prosecution, but it also makes good business sense. You don't want to be emailing people who don't want to hear from you – that is just annoying, and damages your brand. What does make sense is to provide helpful and interesting information to people who want to read it. And if they choose they no longer want to read it, they can unsubscribe without fuss.
What if you email people for several different reasons, and unsubscribing from one email will unsubscribe them from others that they may still want? That is when Email Preference Centres step in.
What is an Email Preference Centre?
An Email Preference Centre (EPC) is a webpage that allows people to pick and choose which types of email they want to receive. Marketing Cloud Account Engagement (MCAE), formerly Pardot, makes this easy with their Preferences Page function. You determine the lists that you want included on in your EPC, and prospects can opt in or out of those lists, or unsubscribe from all email. MCAE comes with a default EPC already set up, but you can also create custom ones to reflect your branding.
How to create an Email Preference Centre
There are a few things you need in order to create an EPC in MCAE.
First, you will need to know the lists you want to include in your EPC. Create those lists in MCAE, ensuring that you select 'Public list' – this means that it will be selectable in your EPC settings. Read more about how to create lists in MCAE here.
Secondly, you will want to have created a Layout Template for your EPC. This is the styling of the page, made up of HTML and CSS code. We recommend that the page reflect your branding and is a good oportunity to provide links to other pages of your site. In fact, we recommend that it look like just another page of your website with the same header and footer. Read more about how to create a Layout Template in a downloadable guide here.
Lastly, you put it all together by creating the Email Preference Centre in MCAE. Read more about how to create an EPC here.
Need help? Contact us to help you create your Email Preference Centre.
Email Preference Centre Examples
EPCs, they sound amazing, right? But what makes a good one? What lists should you include? You should first start by determining what types of email you send now. Categorise your current email marketing habits, and check out our examples below for ideas.
Macquarie Telecom Group
Macquarie Telecom keep it simple, while also looking great. The use of the toggles takes it to another level with a visually pleasing flick to opt in or out of their three uncomplicated lists.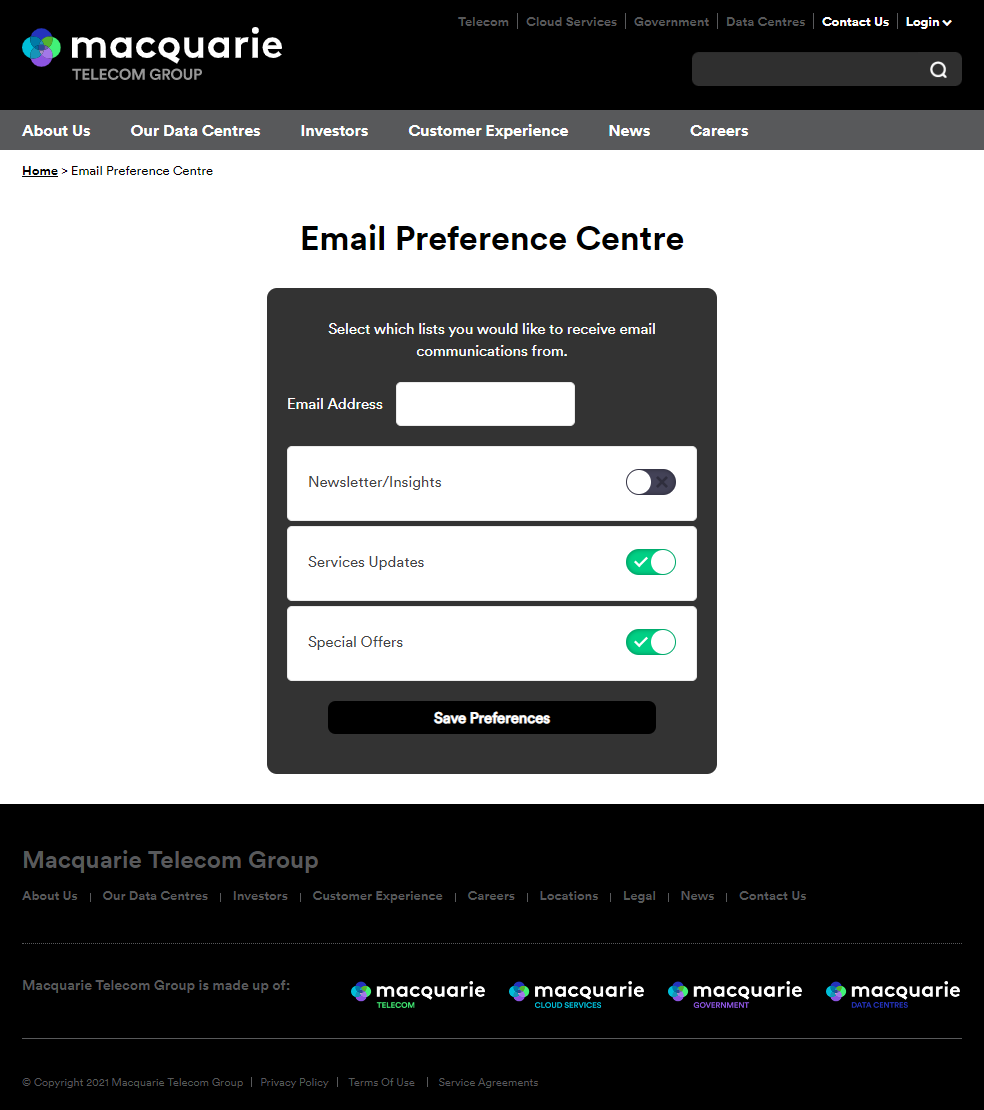 Litmus
Litmus have a lot going on. That's why they break down their regular newsletter into even more options for people to opt in and out from, as well as some of their other occasional content.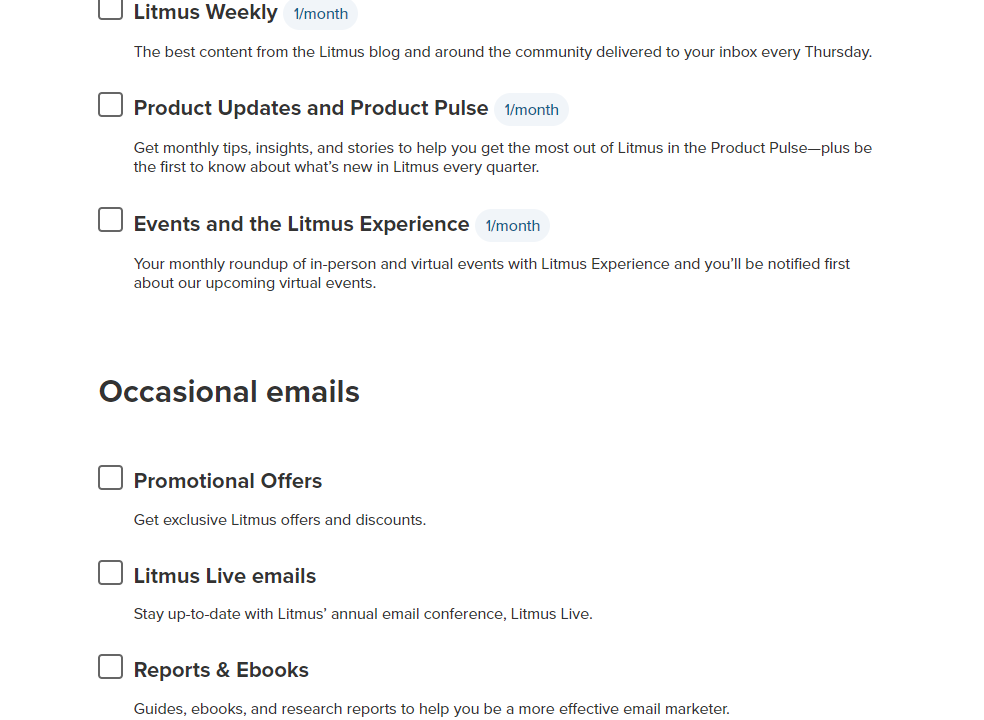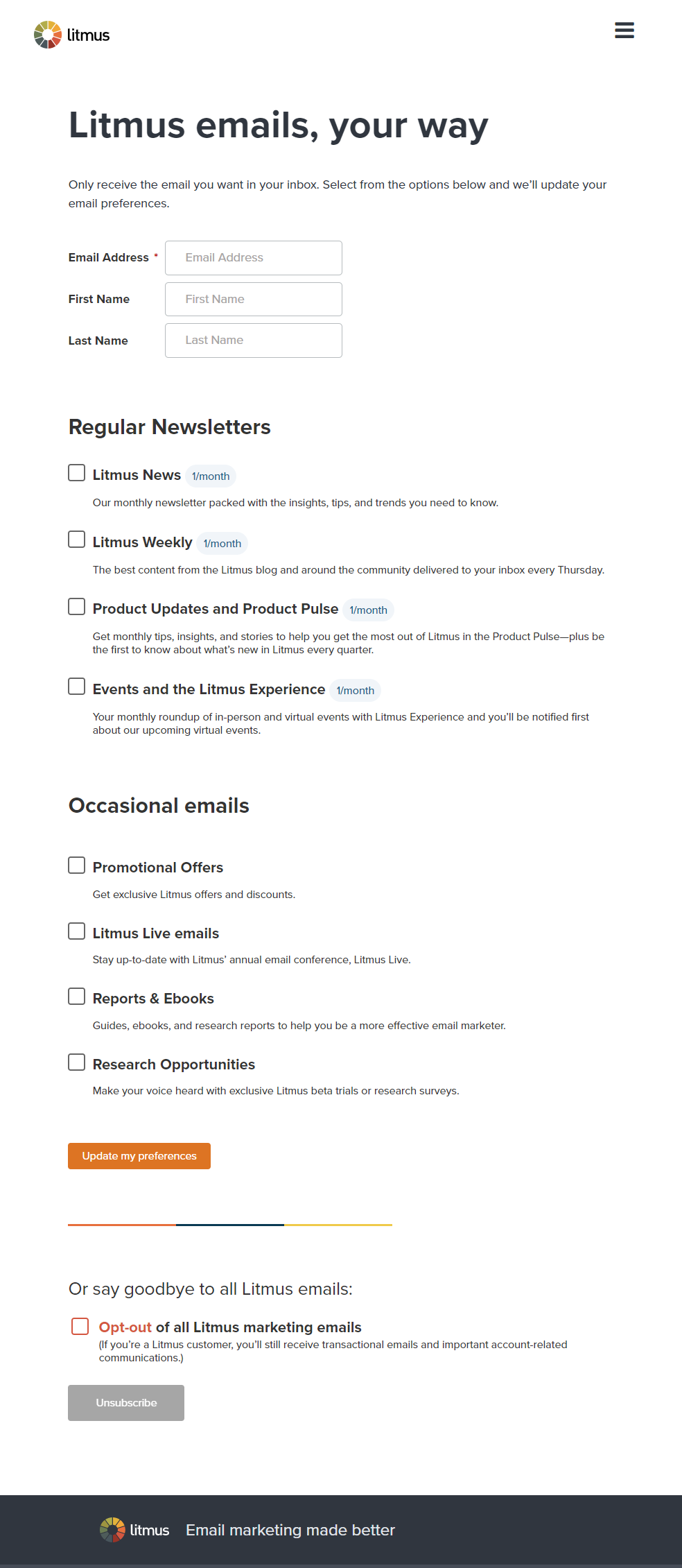 Salesforce
Salesforce has content relevant to different job roles as well as industries, and they include these as preferences in their EPC.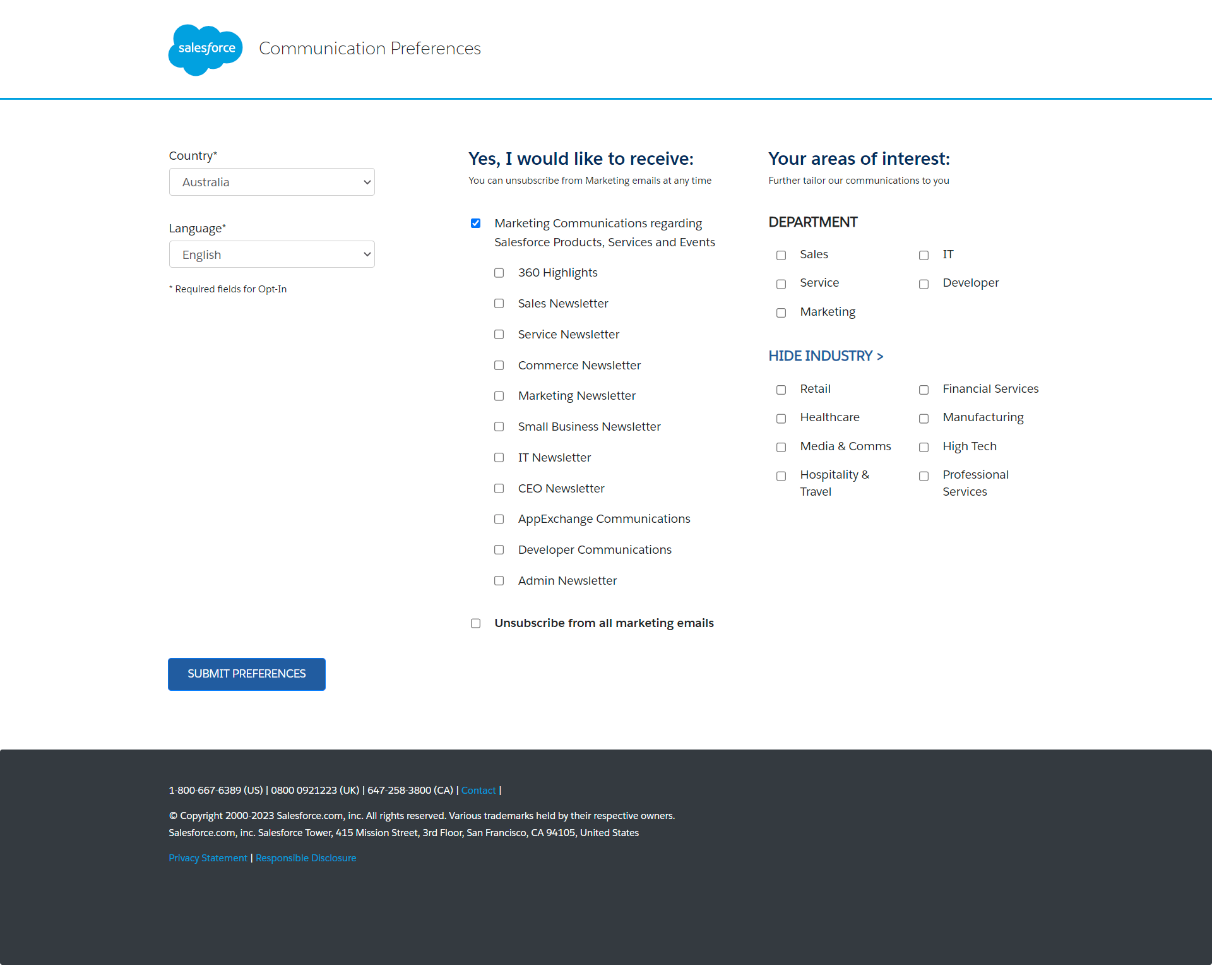 Need help?
Our team of experts are ready to help you with all your Salesforce and MCAE (Pardot) needs. Send us a message by filling out the form below.