As Salesforce Classic nears the inevitable end of its shelf life, the Salesforce team is working to gradually migrate its client base to Lightning Experience, beginning with the new Winter '20 release. And as we approach a new milestone in CRM and digital transformation, it's time to let go of the old Classic interface and embrace the next generation of CRM in Lightning Experience.
You may have received an email such as this one below, to notify you of the transition: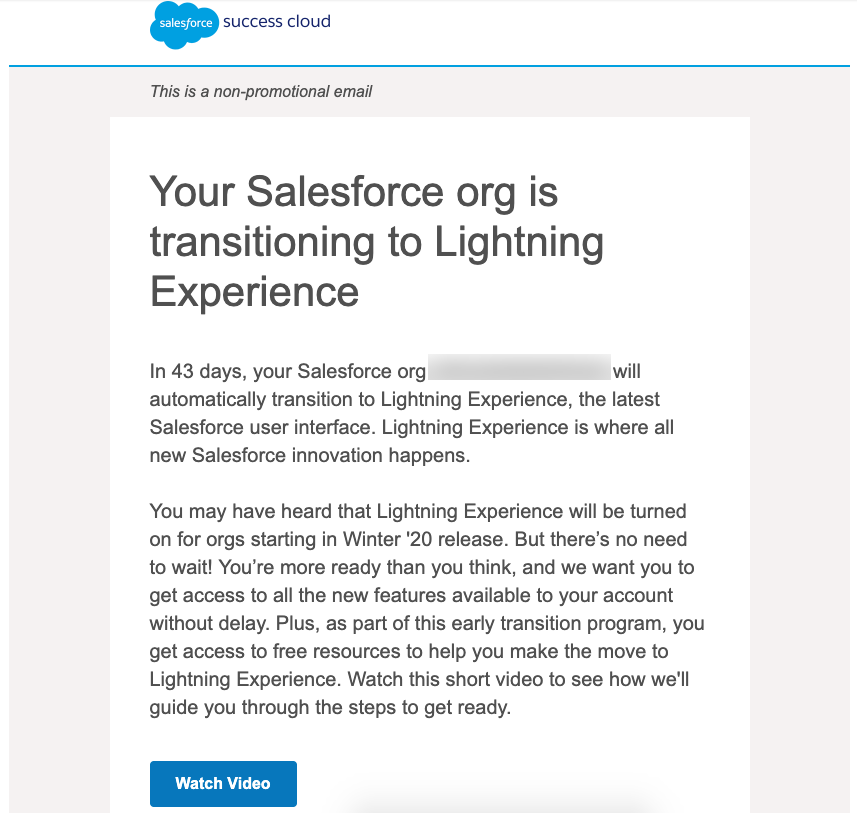 Salesforce Lightning's Total Economic Impact (TEI) Study
In an independent study of Lightning Experience conducted by Forrester here, these key benefits to Lightning Experience were discovered:
3% increase in user productivity – about an hour per week

Savings of 2 hours a week by power users and business sponsors thanks to improved dashboards and analytics

Cheaper development and deployment costs

80% decrease in developer turnover rates
In addition to these impressive figures, here's a quote from the report:
"Based on benefit calculations for 2,400 users over a three-year analysis, the total benefit of a Lightning deployment is $1,405 per user for the composite organisation."

—The Total Economic Impact of Salesforce Lightning, 2018
This isn't to say that moving to Lightning doesn't come at a cost; there is a cost involved in the migration. The study accounted for this, and found that even with the increased cost of migrating to Lightning, organisations in the study saw a 341% ROI and a payback period of only 14 months.
There's no doubt that these numbers are fantastic, and are a good reason to justify the upgrade.
Practical Benefits of Lightning Experience
The numbers are great and support a compelling use case when you're working to get the executive team's buy-in. Here's a quick list of some of the benefits Lightning Experience offers end users specifically:
Custom lightning record pages, providing the ability to display more data and information via templates

Installable and reusable components, providing users with the ability to access and use related data quickly and easily

Improved UI and navigation features, like Favourites

Path, which is a visual representation of a given process; custom text can be added to help users through a process

Custom themes and branding

Improved search behaviour

Improved report builder and dashboard charts
While it's likely that you've heard about these features before, a number of these are utilised by end users every day and have a strong impact on their productivity levels. Now let's get right down to the automatic transition to Lightning Experience.
Lightning Experience Critical Update
With the previous Spring '19 release, a critical update was introduced that automatically enabled Lightning Experience for Salesforce orgs. The update was not enabled by default, but the option was there for Admins to enable, if they agreed to move to Lightning Experience.
After the Winter '20 release, this critical update was enabled for all orgs as a means to ease clients into Lightning, so that they could experience the benefits outlined above. On 7 January 2020, all orgs will receive the update within 72 hours. Technically, this is by no means a forced migration – even after Lightning Experience is turned on, users will still have access to the Salesforce Classic interface.
Who Will Be Affected?
These types of users will be affected by this critical update:
Users assigned a Standard profile (including System Admins)

Selected users that were assigned to a permission set in which the Lightning Experience User permission was activated

Custom profile users that were created based on a standard Salesforce profile via cloning, in which the Lightning Experience User permission was left activated

Custom profile users which have the Lightning Experience User permission activated
Users that have the Lightning Experience User permission enabled via any of the methods above will be impacted by the update. Also note that not only will Lightning Experience be turned on and users with the aforementioned permissions will be moved to Lightning, if they decide to revert to Salesforce Classic, Salesforce will automatically log them into Lightning every Sunday evening.
Rest assured, Salesforce Classic is not going away completely anytime soon. Salesforce Classic will still be available, but they're making it more difficult for System Admins to ignore Lightning, which is probably a good thing.
That said, to work around this critical update, you'll need to ensure that your users are in Custom profiles (if your Salesforce edition allows custom profiles) where the Lightning Experience User permission is disabled, and your Permission Sets don't enable this permission, either.
It would be advisable, though, to migrate your Salesforce org to Lightning Experience through this process. If not your entire org, try to get as many of your users migrated to Lightning Experience as possible. You could consider this as the impetus that is driving you to take action. Speaking of action, let's discuss next steps and how you can prepare to migrate.
Further Reading